SANTEE RESTAURANTS TO ENJOY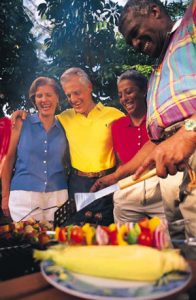 Once your round of golf is over and it is time to kick back and relax, you won't have far to go. Think 3-wood. You are only a short walk away from southern hospitality, delicious southern cuisine, vibrant entertainment and a bit of nightlife.
Santee Restaurants: Regardless of your tastes, we've got you covered. From fine dining to fast food, here's a listing of the restaurants in Santee.
Armando's Mexican Restaurant
803-854-9126
9134 Old #6 Highway
Offering fabulous Mexican food and home of the Massive Margarita.
Captain's Quarters
803-854-4695
This restaurant features some of the area's best steak and seafood. Homemade desserts include the popular orange pineapple cake. Located next to the Best Western, but in walking distance to several hotels. Open for dinner only at 5 p.m.
China Dragon
803-854-3895
Buffet styled Chinese restaurant in Santee. Located in Rivers Plaza.
Clark's Inn & Restaurant
www.clarksinnandrestaurant.com
803-854-2101
8920 Old #6 Highway
For over 73 years, Clark's has been serving Southern cuisine and spirits in a pub-like atmosphere with fireside dining. Open for breakfast, lunch, and dinner.
Cracker Barrel
www.crackerbarrel.com
803-854-3020
Country-style family cooking and store
Craig's Place Deli & Cafe
803-854-4601
New York style deli sandwiches, soups and salads. Located on Highway 6 East. Craig's Deli does catering, also. Open daily 9-7.
EhSee Bar and Lounge
803-854-9044
Located in the Clarion Inn at 123 Mall Drive. Happy Hour is 6pm – 7pm. $5.00 cover charge per person. Buffect available. Open nightly Thrusday through Sunday. Live entertainment. Ages 30 and older. Dress code is classic and classy.
Generations Italian Ristorante
803-854-9033
Located in the Clarion Inn at 123 Mall Drive. The restaurant is open Thursdays – Saturday, 5pm – 9pm.
Huddle House
www.huddlehouse.com
803-854-2220
Open 24/7 Breakfast, Lunch, and Dinner
Kem's Country Food (Holiday Inn)
803-854-9800
Full service restaurant in the Holiday Inn.
Key Largo
803-854-3107
820 Bass Drive
Key Largo is a locally owned restaurant serving dinner only. Inside and outdoor dining with a varies menu. Small tiki hut atmosphere makes it a fun place to have a cocktail, listen to some music, and have a casual dinner . Open Wednesday through Saturday.
Lone Star Barbecue & Mercantile
803-854-2000
Family-owned, Bar B Que buffet. Open Thursday through Saturday for lunch and dinner; Sunday lunch is available until 3 p.m. Each night has a special meal. Catering or in-house parties available. Located on State Park Road, off of Highway 6 W.
Maurice's Gourmet BBQ
803-854-3889
BBQ lunch buffet and dinner. Good Southern BBQ with the "yellow sauce" is available 7 days a week.
Oasis Sports Bar & Grill
803-854-4321
Located only minutes away from Santee National Golf course this bar and grill offers plenty to do with a games room that includes pool tables, a jukebox and a big screen TV.
Quality Inn – Ziggy's Restaurant & Lounge
803-854-2101
Pub-style atmosphere at the Quality Inn.
The Rotonda
www.therotonda-sc.com
1550 Bass Drive, Santee, SC 29142
803-854-9097
Open every Sunday for "Southern Sunday Buffet." Available for catering and private events or meetings Monday-Saturday. Locally owned. Large groups welcomed. No reservations necessary. Located on Bass Drive across from Santee Conference Center.
Santee Seafood Bistro & Fresh Market
www.facebook.com/SanteeSeafood/
647 Bass Drive, Santee, SC 29142
803-854-4840
Intimate, locally owned, restaurant and fresh market serving lunch and dinner (beer & wine available). Outdoor patio dining. No reservations necessary. Located on Bass Drive across from CVS/South State Bank. Open Wednesday – Saturday Restaurant: 11:30 am – 9pm Fresh Market: 11:30 am – 7pm
Thai House Restaurant
www.thaihousesantee.moonfruit.com
803-854-9060
Fine Thai and Chinese food. Family owned and operated. Menu choices include fresh Sushi made by Mr. Sam right in front of you. Small, intimate dining. Located near several hotels for easy walking. Reservations recommended.
Waffle House
www.wafflehouse.com
803-854-3311
America's place to eat. Open 24/7!
Wilbur's Cocktails & Supper Club
www.wilburssantee.com
803-854-5150
Old #6 Highway
Serves lunch, dinner and drinks and features live music.
FAST FOOD CHOICES: BoJangles, Burger King, McDonald's, Pizza Hut, Subway, Sub Station II, Taco Bell and Wendy's.