PLAY
Santee, South Carolina features 3 outstanding golf courses, all located within a mile of the Town
STAY
Santee, South Carolina offers a wide variety of accommodations from quaint inns, hotels/motels as well as lakeside and on-course golf villas and condos
WORLD CLASS FISHING
Lake Marion and Moultrie have produced
world and state records
CONFERENCE CENTER
An ideal location to host your corporate events, meetings, wedding and family reunions
Santee, South Carolina – America's Value Golf Destination
When we say "All Less Than A 3-Wood Off I-95" we might be exaggerating a little bit, but not much!
If you are looking for hustle and bustle that is not us!
If you are looking to kick back and relax – that is us.
If you are looking to get to the golf course in less than 5 minutes – that is us.
If you are looking to be able to walk to just about any place in town – that is us!
The Town of Santee, located right on I-95 in South Carolina, is situated on the south shore of the State's largest freshwater lake – Lake Marion, with a population of fewer than 1,000 residents.
Santee is blessed to have a trifecta of great golf courses, Lake Marion, Santee National and the Santee Cooper Country Club within 5 minutes of pretty well any place in Town that you might be staying!  Four more courses within about 20 minutes and another 10 or so within 45 minutes.
We have accommodations to suit any taste and budget, hotels, motels, golf course or lakeside villas and condos. Once your round is over and it's time to relax or wine and dine you won't have far to go!
We welcome you to come visit and try our Southern hospitality!
Welcome to Santee, South Carolina!
On behalf of the Town of Santee please allow me to welcome you too our website, thank you for your interest and hopefully look forward to welcoming you to our quaint little Town…READ MORE
STAY & PLAY IN SANTEE
Our in-town packagers, Golf Santee, Santee Cooper Golf and Clark's Golf Packages provide excellent accommodations, magnificent golf courses, and true southern hospitality, all nestled in the heart of the beautiful South Carolina Lowcountry, it's no wonder that Santee has become a golfer's preferred vacation destination.
DISCOVER THE ATTRACTIONS OF SANTEE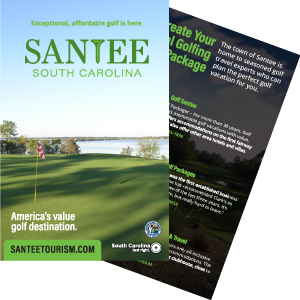 The selection of golf courses in Santee is unsurpassed. Choose from over a dozen of the best-maintained courses in South Carolina, many located just a pitch shot from our accommodations.