REQUEST A FREE GOLF GUIDE
To order your FREE Golf Guide to Santee, South Carolina, America's Value Golf Destination, please fill out the form below. Thank you for your interest in Santee, South Carolina.  Please continue your tour of our website. We look forward to welcoming you as a visitor to our fine town.
Access featured golf packages here.
For the FREE Golf Guide, please be sure to include your full mailing address (street address, city, state/province and zip/postal code). Thank you.
MAILING ADDRESS
Santee Tourism
PO Box 1220
Santee, South Carolina 29142
Tel: 803-854-2152 ext. 203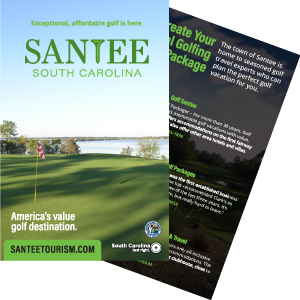 www.discoversouthcarolina.com
Welcome to South Carolina! Find information on where to go, things to do, where to stay and how to get there.